---



MIDI over TRS
Return to Links to All Articles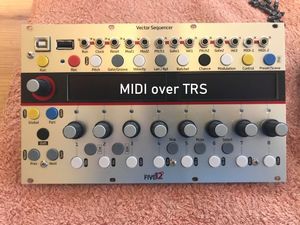 ---
The Vector 3.5mm TRS MIDI IN and OUT jacks are Type B and present as listed below.  This means that if you are pairing it with another Type B device you can use a standard 3.5 mm TRS cable to connect the two together.  Otherwise, use the supplied midi converters that came with your Vector sequencer.  
Tip = MIDI DIN pin 4  
Ring = MIDI DIN pin 5  
Sleeve = MIDI DIN pin 2 (shield)
The 3.5mm TRS cable is the same regardless of whether your device is Type A or B.  It is the signaling across the cable that changes.  Connecting Type A and B midi devices will generally NOT work.  
 
---